Love is in the Air at Kimpton's Miami Hotels
The Magic City is no stranger to love, and this month Kimpton's two Miami hotels – EPIC Hotel in downtown Miami and Surfcomber Miami, South Beach – are setting the mood for all things romance with the all new Cabana Love package.

With rates starting from $639 at EPIC and $459 at Surfcomber, the Cabana Love offer includes a romantic private dining experience in a poolside cabana. Flirt away in privacy with your very own dedicated server while you savor a sensual three-course menu and a bottle of wine at EPIC or a bottle of Prosecco at Surfcomber. No driving necessary when you lounge poolside and retreat to your guest room.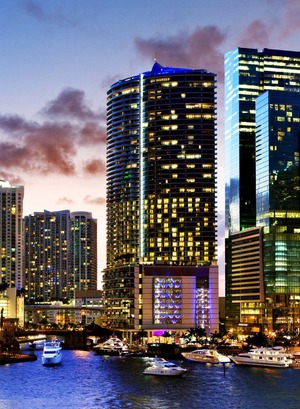 EPIC Hotel, Miami – A luxury, waterfront hotel in downtown Miami, Kimpton's EPIC Hotel offers guests a true cosmopolitan resort experience that combines Miami's indisputable international vibe and energy, with exclusive amenities such as a 16th floor roof-top pool deck, top-rated restaurants, dramatically designed event spaces and exhale spa. Together, these attributes have made EPIC one of the leading hotels in the market, sought after by business and leisure travelers, groups, celebrities, sports teams and the international set. Located in theepicenter of it all, with some of the best attractions, boutiques, restaurants and entertainment just steps away, EPIC offers a memorable experience while epitomizing Miami at its best and always living up to its name.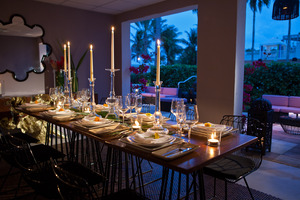 Surfcomber Miami, South Beach – Situated in the historic Art Deco District along 200 feet of Atlantic oceanfront, Surfcomber Miami, South Beach, recently completed a top-to-bottom renovation and is one of the newest Kimpton hotels. Since re-opening in December 2011, Surfcomber's resident herd of cows and sheep have become fast favorites among guests. Continuing to bring a sense of playfulness and whimsy to South Beach, Surfcomber's herd plays dress-up on holidays, poses for photos and wanders around the hotel's lobby, pool deck and restaurant. Ideally located only 15 minutes from Miami International Airport, Surfcomber combines the sun, surf and sand with its direct beach access, pool bar and grill, and close proximity to South Beach shopping and nightlife.

Cabana Love is based on availability and blackout dates may apply. For reservations, use the rate code: CABLUV. Guests must reserve the private dining package at time of reservation by calling 305-604-1800. Cabana dining is available between 7p.m. and 11p.m. Pricing is based on reservations for two. Services and gratuities are not included.

For more information on EPIC and/or reservations, please call (866) 760-3742 or (305) 424-5226 or visit www.epichotel.com. For more information on Surfcomber and/or reservations, please call (800) 994-6103 or visit www.surfcomber.com. To stay up-to-date on the latest news and travel deals, become a fan of the EPIC's Facebook page and Surfcomber's Facebook page, and follow us on Twitter and Instagram @KimptonInFL.